Massage Therapist Specialty – Acupressure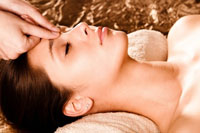 Acupressure is a form of Asian bodywork that involves applying pressure to specific points in the body in order to affect the energy flow and promote wellness. The points are the same as those used in acupuncture, hence the similarities in name. Although the term 'acupressure' has been in the public conscious in the Western world for a shorter period of time, some forms of acupressure probably predate acupuncture.
Acupressure points may be treated in various ways; pressure may be used in combination with different massage strokes. Shiatsu is sometimes considered a form of acupressure and sometimes a closely related bodywork form.
Acupressure is considered an Eastern modality, but the lines are blurring. The practice has a good deal in common with Western trigger point therapy.
Acupressure may be used in combination with other natural healing techniques.
Acupressure Licensing
Licensing laws are set at the state level. Acupressure could follow under the scope of practice of various professions including acupuncture. It is typically within the massage therapy scope of practice.
In some states, your acupressure practice might qualify you for an exemption from massage therapy licensing. However, it can be helpful to have the broad healthcare/ massage training and to hold a license. Licensing can confer privileges such as allowing you to bill insurance companies for services. It can also establish credibility. The totality of your education and training will determine what licenses you qualify for. Your school may be a resource about your state's licensing laws and exemptions.
Education and Training
You will need to make sure that your program meets state requirements. In many states, a program as short as 500 to 600 hours can qualify you for licensure as a massage therapist. The program will likely include some Eastern technique. It may allow for some electives. However, a big part of the initial program will generally be devoted to fulfilling mandates in areas like anatomy and physiology, professional standards, and Western/ Swedish massage technique. A longer program may provide more opportunity for exploration or specialization. There are programs designed to simultaneously offer preparation for massage therapy licensing and credentialing in modalities like shiatsu.
You can wait until later to specialize. Massage therapists typically continue their education beyond the initial program. Coursework may be taken through colleges or through recognized continuing education providers such as those approved by the National Certification Board for Therapeutic Massage and Bodywork. The depth and breadth of instruction (and the commitment) varies. You can sign up for a three hour course through a continuing education provider – or a 50 hour course.
Your program may not be termed "acupressure". You may search more general terms like 'Asian bodywork' or more specific terms like 'shiatsu'.
Adjunct Credentialing: Certification
Third party certifications can help you establish credibility. The National Certification Board for Massage and Therapeutic Bodywork (NCBTMB) is the main third party credentialing organization for massage and bodywork while the National Certification Commission for Acupuncture and Oriental Medicine (NCCAOM) is the main credentialing organization for certain related practices.
In order to be board certified through the NCBTMB, you will need comprehensive massage therapy education. You may need additional education beyond what your state board mandates; the NCBTMB now requires 750 hours. There are many acupressure-related options.
NCCAOM does not currently offer new practitioners the option of being certified specifically in Asian bodywork, though practitioners who earned the credential can continue to recertify and practice under it. If you are seeking first-time certification through NCCAOM, you would also need education in acupuncture and/ or herbology — educational requirements are high.
There are other certification agencies, such as the Natural Therapies Certification Board (http://www.ntcb.org/types/index.html).
Resources