Becoming a Massage Therapist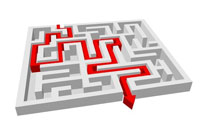 Considering a career in massage therapy? The first step is career exploration. You may want to get some experience helping people, perhaps in a volunteer capacity. You may also want to read profiles of massage therapists on sites like the American Massage Therapy Association (https://www.amtamassage.org/professional_development/index.html).
You'll likely want to familiarize yourself with your state massage board even before you enroll in classes; this is to ensure that the program you choose will meet licensing or certification requirements.
<!- mfunc search_btn -> <!- /mfunc search_btn ->
Beginning Your Education
Then it's time to train. In most cases, this means completing a formal program that has been accredited or approved. Some states will license you based on an approved internship program. There are generally very specific requirements you must meet. You may need to apply first at the apprentice level. If you complete an apprenticeship program instead of an educational program, this can make it harder to become licensed in other states, especially when you are in the early stages of your career. In some more remote areas, apprenticeship may be the only option. Either way, you will want to do your research.
Complete a formal Massage Therapy training program that has been accredited or approved.
Making the Most of Your Student Days
Your training will include more than just massage theory and application. You will also have science coursework. Still, a massage therapy program may be short; many last only six months. Consequently, you'll want to take steps toward licensing and career building as early as your student days. Your clinical experiences are chances to make contacts in the professional world as well as fulfill requirements. Some states allow, and even require, you to carry out services in a student clinic. You may also have the opportunity to perform services at volunteer events. Again, this depends on your jurisdiction; states often have very specific rules about what you can and cannot do as a student.
If you will be performing massage on the public, you will likely need to carry liability insurance. You may get this by joining a professional association. At the student level, the costs may be low. You may have other perks, like study tools – or even the chance to select a mentor.
In most cases, you will be required to take a licensing examination. If your state is one of the many that uses the Massage and Bodywork Licensing Exam, or MBLEX, you may be approved to test as early as your student days. However, you will need to affirm that you have had appropriate training.
Your clinical experiences are chances to make contacts in the professional world as well as fulfill requirements.
You may preview the examination content by visiting the website of the Federation of State Massage Therapy Boards (https://www.fsmtb.org). The candidate handbook includes a list of suggested massage texts.
Preparing for Licensure
The MBLEx process can be quick. You will select one state board to have your test results sent to. You can generally be approved to test within a week's time. Once approved, you will be allowed to schedule at a Pearson VUE testing center. Pearson proclaims having the largest testing center network in the world. Testing results are typically reported to the selected licensing agency within a day of testing. If you fail an attempt, however, you will need to wait 30 days before making another attempt; you will also owe additional fees.
You will also want to look ahead to see what additional steps you will need to complete at the application stage. You may, for example, need to have a fingerprint-based background check. You may also have a test of state laws and rules.
Your license may be issued online or mailed. Once you're licensed, you can advertise your services. You may instead choose to work for an organization such as a franchise, spa, or wellness center.
Massage Therapist License Requirements – Select Your State