Medical Massage – A Massage Therapist Specialty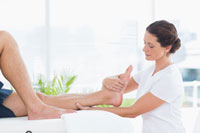 Medical massage therapy is concerned with providing relief for medical conditions. It has sometimes been defined as massage therapy that is performed to treat a condition diagnosed by a medical professional (http://www.mmpa.us/faq.htm). As a licensed professional, a massage therapist may receive referrals from physicians (subject to the practice act in his or her own state). Indeed, some massage therapists work in hospital or other clinical settings. A person may be involved in patient care, though, even outside of a standard employment situation.
In some cases, massage therapists may bill health insurance companies for services. This is also subject to state law, as well as to the policies of the individual carrier. Increasingly, insurance companies are paying for complementary and alternative treatments. Why? There is mounting evidence that they work. Moreover, promoting wellness can be more cost effective than treating conditions when they become acute.
Medical massage is a growing discipline. The Bureau of Labor Statistics has projected an overall 23% growth in the massage therapy profession between 2012 and 2022 and offers as one reason the increasing inclusion of massage in treatment plans (http://www.bls.gov/ooh/Healthcare/Massage-therapists.htm#tab-6).
The coming years should see plenty of new hires! But what does it take to be successful?
Medical Massage Therapist Licensing and Credentialing
Massage therapy is a licensed profession in most states. Medical massage practitioners must be licensed or otherwise credentialed as massage therapists. Most states do not make a distinction between licensing for professionals who practice medical or clinical massage and those who simply practice massage. However, there are exceptions. Maryland, for example, distinguishes between Registered Massage Practitioners and Licensed Massage Therapists. Only the latter are authorized to work in healthcare settings.
Massage therapists may pursue various adjunct credentials. Usually these are offered by third parties and don't replace licensing; they are more like a badge of distinction. The National Certification Board for Therapeutic Massage and Bodywork grants board certification to professionals who work in various practice settings. A board certified massage therapist will not be credentialed specifically in medical massage.
Other credentials are more specific to medical massage. The American Medical Massage Association (AMMA) offers a medical massage credential. In order to pass the NBCA Massage Therapy Certification Exam, a candidate will need a specific type of training, with adequate emphasis on orthopedics (http://www.americanmedicalmassage.com/ncerequirements.htm).
The Knowledge Base
Minimum educational requirements are set at the state level. Knowledge starts with the basics: including a solid knowledge of pathology, contraindications, and special populations.
There is a difference between what one needs to be licensed as a massage therapist, though, and what one may need to thrive in a medical or clinical setting. Would-be medical massage therapists can enroll in certificate programs focused specifically on medical massage. It is important to recognize that different organizations define medical massage therapy differently, and the emphasis could be on functioning within the healthcare industry or on providing scientifically-based treatment for specific conditions.
Breaking in to the Industry
The American Massage Therapy Association (AMTA) has provided plenty of resources for massage therapists interested in working in medical settings and healthcare settings (https://www.amtamassage.org/career_guidance/detail/193?typeId=10). There are some challenges, including having less control over the environment and having to be especially mindful of role and scope of practice.
Up for the challenge? There are multiple reasons to be an avid consumer of research. As a research-savvy therapist, you have the skills to help people. You also know, and can articulate, how you can help. AMTA has provided some tips about introducing yourself to medical professionals. In your letter, you will likely want to cite some massage-related health research. AMTA suggests doing two things in closure: asking what you can do to make yourself qualified to receive referrals and indicating you'll follow up.
Additional Information