Massage Therapist Specialty – Hot Stone Massage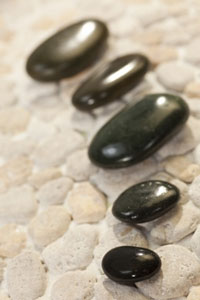 Stone massage practitioners strategically place smooth stones (often basalt river stones) to relax the client and increase therapeutic benefits. Some practitioners not only place the stones in strategic locations around the body but incorporate them in their massage techniques. Some even alternate hot and cold stones.
Hot stone massage is often offered in a spa setting. It also has application in the wellness clinic. It has been touted for a number of health benefits. The stones can relax muscles to the point that the client can enjoy the benefits of deep tissue massage without as much pressure. Heated stones may also enhance circulation. Massage Today, one of the industry's premier magazines, has published a number of articles about stone massage; a therapist can explore their application in everything from prenatal care to oncology (http://www.massagemag.com/articles/stone-massage/).
The origins of stone massage are diverse, and many cultures have been credited. Modern stone massage was born in the United States. Hot stone massage is often thought of as a Western modality but stones can be incorporated into Eastern techniques such as reflexology, shiatsu, or reiki. It's not just the techniques that are diverse. It's also the theories behind them. Are the stones conduits of heat or sources of energy?
Stone Therapist Credentialing
Practitioners hold state licensing as massage therapists. They are not credentialed specifically in stone massage. As licensed professionals, though, they are bound to practice in areas where they have adequate training. They begin their education as other massage therapists do: by meeting the educational requirements for state licensing.
States require between 500 and 1,000 hours of massage therapy education. Programs include substantial science (anatomy, physiology, kinesiology, and pathology) as well as theory and technique. The basic license-qualifying massage therapy program will generally include no more than a short introduction to stone massage therapy. It may be enough only to intrigue!
Practitioners can enroll in stone massage certificate programs. A basic course, taken as continuing education, will likely be less than 20 hours. A typical course covers concepts such as benefits and contraindications, basic protocols, and care and use of materials. The amount of history and theory will vary. Stone massage therapy is an art that can be pursued in-depth. There are also advanced or master programs. Some massage therapists may learn hot stone massage techniques on-the-job. Spas often have their signature treatments — and do their own trainings.
Many training programs are referred to as certification programs. However, the voluntary credential that is generally recognized around the United States as the highest is a generalist certification. Board certification through the National Certification Board for Therapeutic Massage and Bodywork is available to practitioners across specialty areas. The minimum number of hours required for board certification is above that mandated by most (though not all) state massage boards. Therapists can pursue study in stone massage while simultaneously getting in the extra hours they need to be eligible for Board certification. If the program is offered as continuing education, as opposed to college or university coursework, the provider will need to be NCBTMB-approved.
Additional Considerations
All massage therapy practice carries some liability risk, but some modalities are considered higher risk than others. Hot stones are a little like fire: a powerful tool that, if used unwisely, can burn. Practitioners will want to make sure hot stone massage is covered under their insurance policy. There may be additional paperwork and/ or fees. The American Massage Therapy Council charges an extra $25 and requires practitioners to sign a modality-specific informed consent form (http://www.massagecouncil.com/policy.html). Associated Bodywork & Massage Professionals covers hot stone massage as long as certain requirements are met. ABMP has offered safety guidelines (http://www.abmp.com/abmptv/video/stone-massage-safety-guidelines).